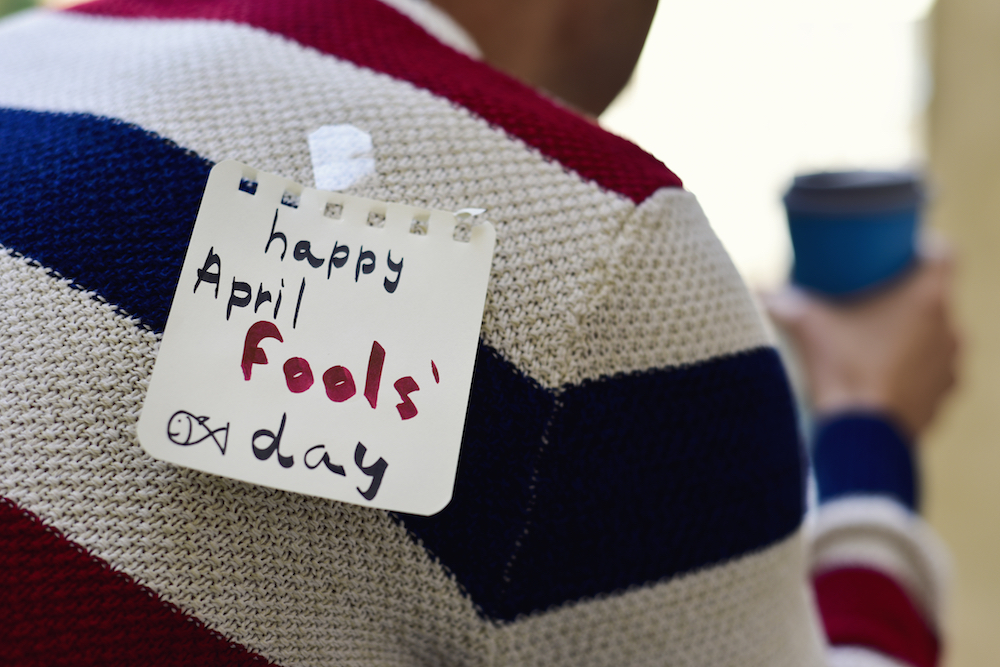 Who invented April Fools' Day?
Tilly Briens
|
March 31, 2023
---
The 1st April is almost upon us and I can only assume that you are currently bracing yourself for a tidal wave of April fools pranks tomorrow.
Some are funny, some witty, some almost believable… others are face-palm worthy.
The question which might be ringing in your ears is, 'who even invented April fools' day?'
French Origin
There is some speculation amongst historians that April fools' Day emerged around 1582, when France switched to the Gregorian calendar which, as in the Hindu calendar, begins the new year with the spring equinox around April 1st. 
It is thought that those who missed the memo and continued to celebrate the new year during the last week of March became the very first April fools. The pranks played on these first fools included having paper fish placed on their backs and being called 'poisson d'avril', meaning April fish. Essentially, the prank deemed its victims gullible by characterising them as young, easily caught fish.
Ancient Rome
April Fools' Day has been linked to festivals celebrated in Ancient Rome. Hilaria, Latin for joyful, was celebrated at the end of March by followers of the Cybele cult and involved members dressing up in disguises and mocking their fellow townspeople.
Northern Hemisphere
Other historians speculate that April fools' Day is tied to the vernal equinox or spring equinox which marks the first day of spring in the Northern Hemisphere. April fools ties in with the notion that Mother Nature fools people with unpredictable weather during the vernal equinox.
Britain
April Fools' Day was recognised in Britain during the 18th century.
Scottish tradition involved a two-day event which began with 'hunting the gowk' (gowk meaning cuckoo bird and symbolising the fool), which involved sending people on fake errands. The second day was named 'Tailie Day' and involved pinning fake tails or 'kick me' signs on people's posteriors.
Modern Day April Fools
Today, we the general public are often the subjects of April fools pranks carried out by major retailers, publications and companies… and some of them are pretty good.
One of my personal favourites, as a parent who regularly suffers from the excruciating pain of treading on toy bricks, is an April fools prank played by LEGO in 2021. The company teased us with a fake product called 'SmartBricks' which could sense when a person was approaching and automatically move out of the way. Genius, if a little cruel.
H&M pulled off a pretty hilarious prank on 1st April 2016 by launching a website which depicted Facebook CEO Mark Zuckerberg modelling a limited capsule collection of clothing with the slogan 'one less thing to think about in the morning'.
The BBC are notoriously big players in the game of April fools pranks and have thought up some pretty convincing made-up newsreels which have rendered many a fool.
In 1957, the BBC released what is thought to be one of the first televised April fools pranks called 'The Spaghetti Harvest'. It wrote, 'Panorama reports from Switzerland, where the combination of a mild winter and the virtual disappearance of pests like the spaghetti weevil, has resulted in a bumper spaghetti crop'.
Some victims of the prank even enquired as to where they could purchase their very own spaghetti bush.
You watch The Spaghetti Harvest and more of the BBC's historical April fools pranks here.
Lastly, Google is always good for a laugh on April fools' Day. Some of its best pranks include the false promise of telepathic search in 2000, the actual introduction of a feature which allowed users to play Pac Man on Google Maps in 2017 and inviting users to play 'where's Wally' (or Waldo, in the US) on Google Maps the following year in 2018.
I look forward to seeing what they come up with tomorrow!
Specialist PR agency
We serve clients who want support from public relations professionals who can assist them with their communication programmes. Our work includes PR strategy, media liaison, writing, marketing, brochure and web design.
Our clients want support from people who will be proactive in their approach and who have their clients' interests at the heart of what they do.
Based in Surrey, we serve clients from around globe looking for a positive impact to their communication activity.