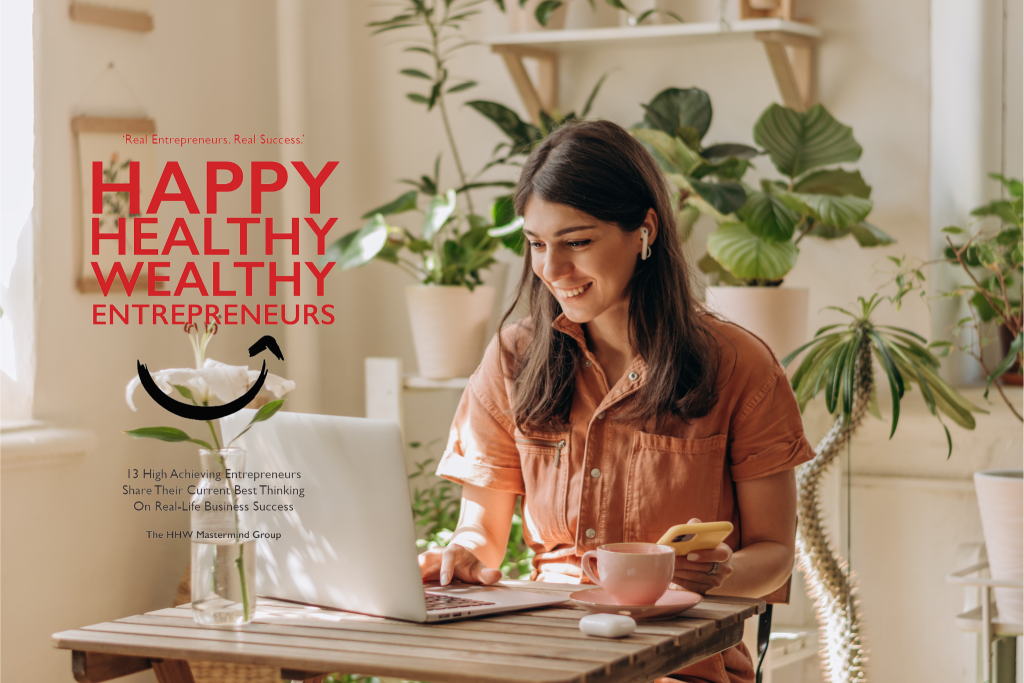 A review of Happy Healthy Wealthy Entrepreneurs by The HHW Mastermind Group
Tilly Briens
|
August 31, 2022
---
Happy Healthy Wealthy Entrepreneurs by The HHW Mastermind Group provides a thought-provoking framework for successful entrepreneurialism. Unlike many other books in the genre, it does not focus on generating as much cash as possible in the shortest amount of time, but rather delivers a sobering reality about the way we prioritise elements of our lives and how we can shift those priorities to become both successful in business and live well.
The book compiles the advice and experiences of 13 entrepreneurs who have become successful both in business and in achieving a healthy work-life balance. The variety of perspectives makes the book relatable and valuable to every individual in business, no matter they are on their entrepreneurial journey.
James Ker-Reid, CEO and founder of Sales for Startups and founder of The HHW Mastermind Group, offers a refreshing focus of fostering good working relationships with both colleagues and customers and investing in your own health and wellbeing in order to make your success sustainable.
The overarching theme carried throughout the book is the importance of prioritising your time and your mental health. The book offers a wide variety of solutions for the overburdened entrepreneur, whether it be finding the right team, learning to take your foot slightly off the gas (in the form of delegation or setting boundaries with clients) investing your valuable time more wisely, or even considering becoming a digital nomad.
Business coach, leadership mentor and best-selling author Andrew Priestley also offers an interesting take on why business leaders fail to inspire their teams, which (spoiler alert!) is most often because they are burnt-out and irritable. Admitting his own past faults, Andrew shares the candid story of his own first business and how he ultimately reconfigured his life and shifted his priorities in order to become Happy, Healthy and Wealthy.
Admittedly, I am a little biased in my high commendation of this book because our founder Tina Fotherby contributed her own perspective on business, which is that a far greater source of wealth than cash, is time.
Explaining how she chooses a less chaotic lifestyle over working at capacity, Tina outlines her own ethos which combines practicing positive business ethics and making enough cash to live comfortably, whilst allowing time to sit down and smell the flowers.
If your schedule is overwhelmingly busy and you find yourself working all the hours that God sends you, or you are suffering from chronic burnout, you will find the learnings from Happy Healthy Wealthy Entrepreneurs extremely helpful.
Specialist PR agency
We serve clients who want support from public relations professionals who can assist them with their communication programmes. Our work includes PR strategy, media liaison, writing, marketing, brochure and web design.
Our clients want support from people who will be proactive in their approach and who have their clients' interests at the heart of what they do.
Based in Surrey, we serve clients from around globe looking for a positive impact to their communication activity.