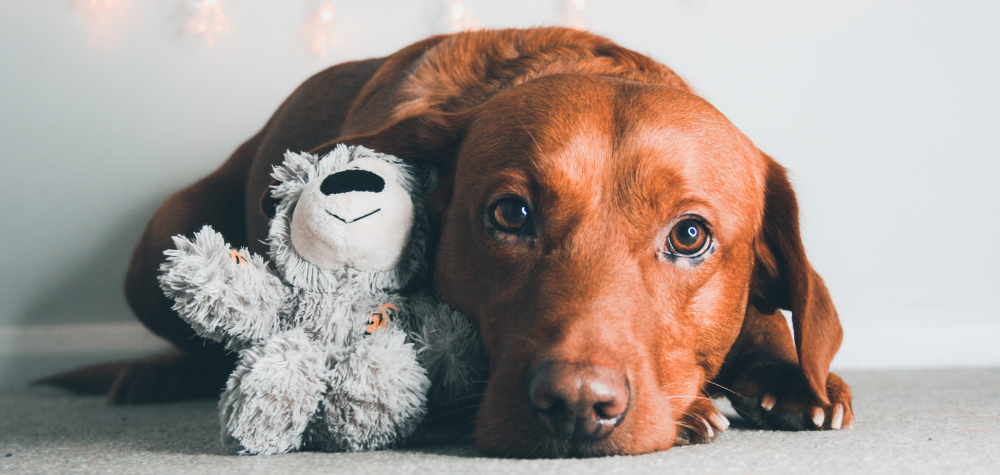 Celebrate your pet for an entire month this April
Tilly Briens
|
March 30, 2021
---
Have you heard about the 'lockdown puppy', or 'pandemic puppy' craze? Whilst there are those of us, like myself, who found themselves locked down with a new puppy unintentionally, others have brought home a new member of the family because of the recent lockdowns in the UK.
According to the BBC, online searches for the term "buy a puppy" quadrupled in the UK during March 2020 and doubled again in May 2020. Over the course of the pandemic, as demand for puppies has increased and reputable breeders have been unable to keep up, many people have turned to disreputable and unlicenced websites such as Pets4Homes.
Unfortunately, these platforms have become a base for puppy farms and backyard breeders to sell unwell puppies to unsuspecting prospective owners at concerningly high prices. These days, 'designer puppies' – a term used to describe crossbred dogs, better defined as mutts – goes for between £2,000-£4,000 on average in the UK. Price aside, a little research into what puppy farms actually are might make you think a little harder about who you purchase your next puppy from.
April 1st will see the commencement of National Pet Month – an annual celebration, organised by the Pet Food Manufacturers Association (PFMA) and the National Office of Animal Health (NOAH), of our four-legged family members. The campaign aims to promote responsible ownership through educational campaigns and resources, as well as raising awareness about the value of assistance animals and encouraging fundraising for pet charities in the UK.
The hashtag #NationalPetMonth is one to watch if you are looking for helpful advice about pet welfare or have advice to give.
So, how can you make sure that you are buying from a reputable breeder? The best thing to do is to look at the Kennel Club website for assured breeders or speak with the national club for the breed of your choice. Most puppies that come from a reputable breeder will be Kennel Club registered, vaccinated and come with a puppy pack as well as information about their parents/lineage.
Although lockdown has undoubtedly provided an excellent opportunity for new owners to spend time more time than ever with their pets, there is also some concern to be had for the number of dogs which have been or are predicted to be handed over to rescue centres once people find themselves having bitten off more than they can chew.
Absolute Dogs is a great online platform which hosts training solutions for dog owners who are struggling with behavioural issues – these resources have been particularly useful during periods of lockdown, when dog owners have not had access to in-person training classes or behaviourists.
Of course, despite some concerns, there is a lot to be said about the positive effect that our pets have had on our mental health during the pandemic. Data from the Kennel Club which was released ahead of World Mental Health Day 2020 revealed that 91% of respondents to a survey in July 2020 felt that their dog had helped them to "cope mentally and emotionally during the global crisis".
Kennel Club spokesperson Bill Lambert said, "These statistics show what anyone who owns or loves dogs already know. For centuries, through thick and thin, dogs have provided us with unconditional love, loyalty and companionship without any judgment, and clearly that has a positive impact on our mental health".
In other dog news, you might have heard the heart-warming story that the Queen, who has owned more than 30 dogs over the years, was recently gifted two Corgi puppies in March 2021. In conversation with The Sun Newspaper, a source said "The Queen is delighted. It's unthinkable that the Queen wouldn't have any corgis. It's like the Tower of London not having any ravens"
Within the Famous Publicity team, I am able to combine my passion for animals with my work. Our founder, Tina Fotherby, shares with me this passion for animals and believes that we can learn a great deal from them. "They have no need for religion or politics but they communicate to survive".
Specialist PR agency
We serve clients who want support from public relations professionals who can assist them with their communication programmes. Our work includes PR strategy, media liaison, writing, marketing, brochure and web design.
Our clients want support from people who will be proactive in their approach and who have their clients' interests at the heart of what they do.
Although based in Surrey, we serve clients from around globe looking for a positive impact to their communication activity.
.