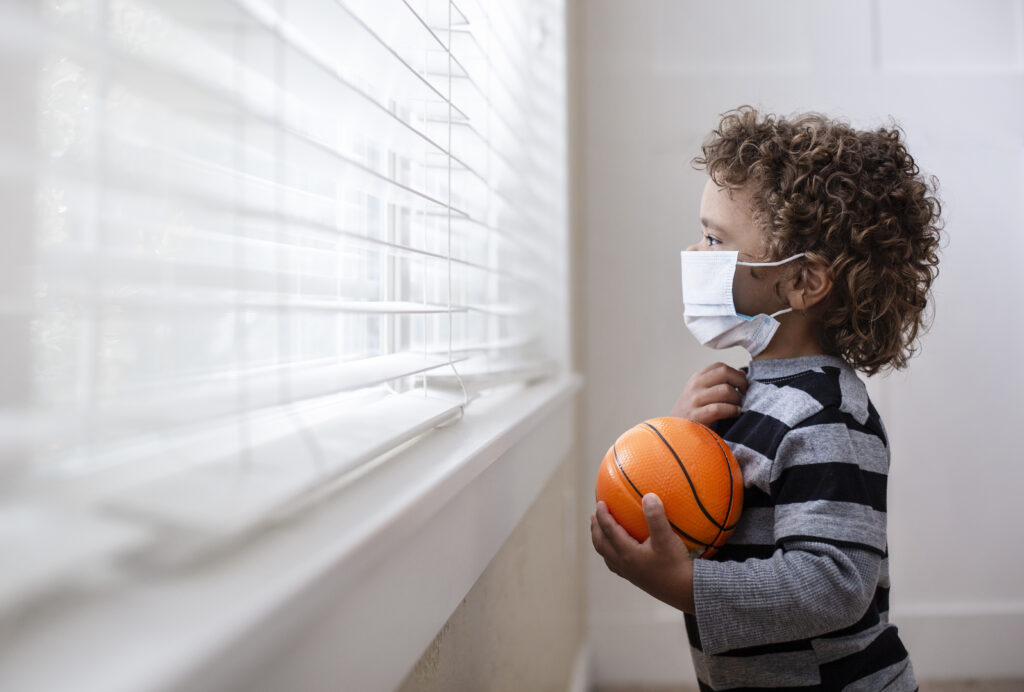 How will the pandemic affect children long term?
Tilly Briens
|
March 31, 2021
---
The pandemic has taken a toll on us all, but with the end now possibly in sight, what will be the long-term effects left on our children?
A report from Ofsted in November 2020 suggests that children have been the hardest hit by the pandemic and lockdown periods over the past year, with findings that pupils have regressed in basic skills and learning.
The Ofsted report included the following comment, "some young children whose parents were unable to work more flexibly, and who experienced less time with parents and other children, have lapsed back into nappies, while others have forgotten how to eat with a knife and fork, or lost their early progress in numbers and words".
The report finds that older children and adolescents, who are arguably hardest hit, have begun to struggle more with reading and writing some have develop difficulties with mental health.
So, education and learning aside, what damage has the pandemic done?
Developmental psychologist Amy Learmonth PhD told Healthline, "They [adolescents] are in the process of figuring out who they are and what they want from their friends. This is why those friendships in middle school particularly can be fragile and most kids experience some isolation and heartbreak."
In this age of cyber bullying and negative behaviour on social media, navigating these friendships online is undoubtedly ten times harder than through face-to-face interactions.
At the time of the Healthline article being published in April 2020, Amy Learmonth PhD had suggested that a short period of lockdown would likely not have a negative impact on teenagers, but that isolation over a long period of time – which we have, of course, now seen – could be seriously detrimental. She said, "Our brains go through their two biggest growth spurts during infancy and adolescence. If our teens' experiences are stunted during this time, if they're short-changed on opportunities to grow, learn, and develop, I believe the impact from prolonged isolation will be greater on them."
Of course, whilst navigating the isolation of the pandemic, older children and teenagers are simultaneously having to cope with hormonal changes, schoolwork and living in the constant presence of their family even more than usual.
How to tell if your child is struggling with mental illness
As a parent, you know your child and more often than not, you will easily be able recognise when there is something wrong with them. But sometimes it isn't so obvious. Here are a few signs that your child may be struggling with their mental health:
Changes in sleeping patterns – If you have a teenage child, it might be difficult to notice a difference in their sleeping pattern at first, I for one didn't have any sort of regularity in my sleeping pattern at that age! However, insomnia or excessive sleeping are common symptoms of stress, and it might be worth a second thought.
Loss of interest in hobbies or activities – It could be that they're growing out of their hobby, or it could be a lack of motivation caused by a struggle with mental health.
Changes in academic performance – Of course, given that schools have gone through periods of closure due to the pandemic, most children have struggled more than usual with their classwork. However, an extreme change or regression could mean that there is more to the issue than meets the eye.
Mood swings – This is a tricky one. Teenage children often experience mood swings because of hormonal changes, so it may be difficult to separate this normal behaviour from something deeper. If your teenager is constantly weeping or in a state of anger or frustration, it may be worth a conversation to find out if there is something more going on.
The real question is "how can we help?". Young Minds is a children's mental health charity which offers useful toolkits, publications, reports and policy information for helping a child who is struggling with their mental health. The charity also has a Parents Helpline for parents and guardians who are concerned for their child's mental health, up to the age of 25.
You can find other resources and online sources of support for children's mental health on the NHS website.
Specialist PR agency
We serve clients who want support from public relations professionals who can assist them with their communication programmes. Our work includes PR strategy, media liaison, writing, marketing, brochure and web design.
Our clients want support from people who will be proactive in their approach and who have their clients' interests at the heart of what they do.
Although based in Surrey, we serve clients from around globe looking for a positive impact to their communication activity.