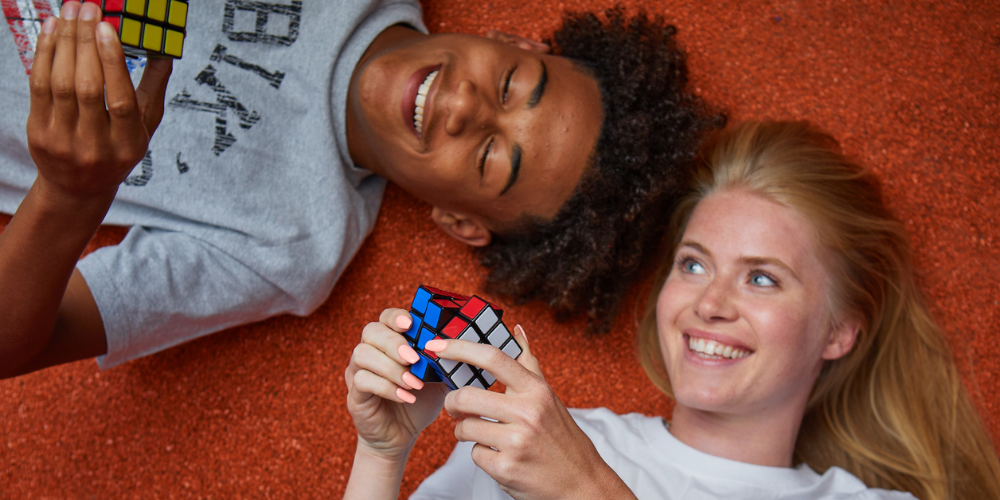 How Rubik's harnessed the brighter side of 2020
Keeley Keohane
|
January 25, 2021
---
When Professor Ernő Rubik first developed his eponymous Cube, originally intended as a learning tool for architectural students, the internet as we know it and our digitally connected lives would have seemed something out of the movies.
However, 2020 was something of a PR triumph for this unassuming little Cube.
Officially introduced to the world back in 1980, nearly half a billion Rubik's Cubes have been sold to date. It is the world's most successful single toy.
In its 40th anniversary year, 2020 saw the team at Rubik's turn its attention to democratising this fiendish puzzle. They were keen to educate people on how to solve the Cube, and for this to be possible for everyone.
Rubik's Brand CEO Christoph Bettin said, "We quickly learned at the start of the lockdown that solving interest was at an all-time high by those choosing to occupy their time with learning a new skill. Very quickly, the term #CubeAtHome was seen by over 17 million people on the TikTok channel, and this spread to other social media platforms with #AdventureEveryTurn hitting 2.1 million views in just one month."
Rubik's used multiple channels to widen its message of "the solve". The brand's website included downloadable and mobile-friendly solution guides. Rubik's ambassadors broadcast engaging, weekly 'how to' videos across social media platforms using the hashtag #FastFriday.
The term #AdventureEveryTurn further capitalised on this momentum, encouraging fans new and old to take pleasure in the challenge of unravelling a scrambled Cube. The breadth of engagement is impressive. To date, #CubeAtHome has clocked up 29.5 million views on TikTok. #AdventureEveryTurn another 13 million.
Head over to TikTok yourself and you'll see fans creating giant murals from hundreds of painstakingly arranged Rubik's Cubes and lightning-fast speed Cubers. Many of these Rubik's enthusiasts are decades younger than the Cube itself. Sleek design, vibrant paintbox colours, and retro cool are just part of it.
Christoph Bettin said,"Face-to-face events are on hold for reasons of safety and social distancing, but we've seen a phenomenal growth in digital engagement. This change in circumstance has seen a massive growth of interest in puzzles and games, together with a yearning for nostalgia."
Strong social engagement can prove to be an important endorsement for a brand as this earned media is generally perceived as authentic and reliable by other users. Combined with global events and wider marketing and communications strategies, the lockdown period saw sales of the Rubik's Cube up double digits in all major markets.
How to explain the longevity of this addictive puzzle? Mastery of this deceptively simple object is still seen as somewhat of an art form, a signifier of intelligence and skill. It's affordable, portable, durable and what's more, carries a universal appeal, crossing barriers of nationality, age and gender. It's said to have been played by a mind-blowing one billion people.
Rubik's links:
Rubik's Website: https://www.rubiks.com
Rubik's Twitter: https://twitter.com/rubiks_official
Rubik's Instagram: https://www.instagram.com/rubiks_official/
Rubik's YouTube: https://www.youtube.com/user/RubiksTV
Rubik's TikTok: https://www.tiktok.com/@rubiksofficial
Specialist PR agency
We serve clients who want support from public relations professionals who can assist them with their communication programmes. Our work includes PR strategy, media liaison, writing, marketing, brochure and web design.
Our clients want support from people who will be proactive in their approach and who have their clients' interests at the heart of what they do.
Although based in Surrey, we serve clients from around globe looking for a positive impact to their communication activity.