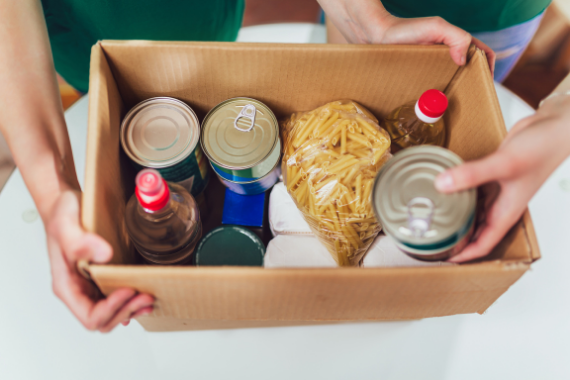 My first steps into volunteering
Keeley Keohane
|
November 5, 2020
---
There's a well-known episode of Friends where Joey and Phoebe argue whether there's such a thing as "a selfless good deed". Phoebe eventually donates money to an organisation that she dislikes, inadvertently gets Joey on TV, feels good about this, and so her selfless act is ruined. 
From my own experience, volunteering falls squarely into the "no such thing as true altruism" category. Don't get me wrong, obviously wanting to help other people was a key motivator, but as a volunteer there is also a lot to gain personally.

Last year, changes in work and childcare meant that I had a weekday morning freed up in my schedule. After having spent time at home bringing up my young child, I was looking for a way to ease back into work, and into the world in general. 

Having previously done some work in the third sector, volunteering jumped out at me as a way to build my confidence and make some friends in the area.

Do-it.org is essentially a volunteering database that pulls up voluntary roles according to geographical proximity. It was a good place to start although on this occasion the placements closest to me needed either a very particular skill set, or were befriending roles. Being out of practice, I wasn't yet sure if I could chat in a semi-professional capacity!

I then remembered a donation we'd once made to a food bank a little way down the road. The staff at the time had been very welcoming and the organisation had seemed easy to approach.  I decided to bite the bullet and give them a call – emails being a far too easy to lose momentum.

Afterwards, everything moved quickly. The lady who picked up the phone was lovely, said they were looking for extra help, and was happy for me to find my feet hiding away and sorting donations if that was what I was looking for!

As with anything new, I remember feeling really quite nervous on the first day. Obviously I needn't have worried. The other "Thursday volunteers" were expecting me and had the time to explain how everything worked and to make me feel at ease. 

During my sessions at the food bank I'd generally organise donations according to type and use by date. I'd split larger packets of staples such as pasta and sugar into smaller, more practical portions, and put together bags ready for collection or delivery.

The sense of teamwork was heart-warming, it felt good to be doing something useful, and I would always leave feeling much better than I went in. 

The volunteers in client-facing roles were friendly, compassionate and down to earth. The donations and support you'd see from locals, businesses and community groups was amazing to see.

As the pandemic struck and the nurseries closed, my Thursday mornings were no longer free. Whereas in the past my daughter had been welcome to come with me when needed, with Covid precautions in place this was no longer feasible. 

During lockdown the food bank saw a good deal of new volunteers and expanded to larger premises to meet the increased demand on its services. 

As we return to some sort of normality in our own lives I hope to get back to help out again in the coming weeks.

Considering volunteering? The NCVO website is a great resource for getting started on your own volunteering journey.
Specialist PR agency
We serve clients who want support from public relations professionals who can assist them with their communication programmes. Our work includes PR strategy, media liaison, writing, marketing, brochure and web design.
Our clients want support from people who will be proactive in their approach and who have their clients' interests at the heart of what they do.
Although based in Surrey, we serve clients from around globe looking for a positive impact to their communication activity.