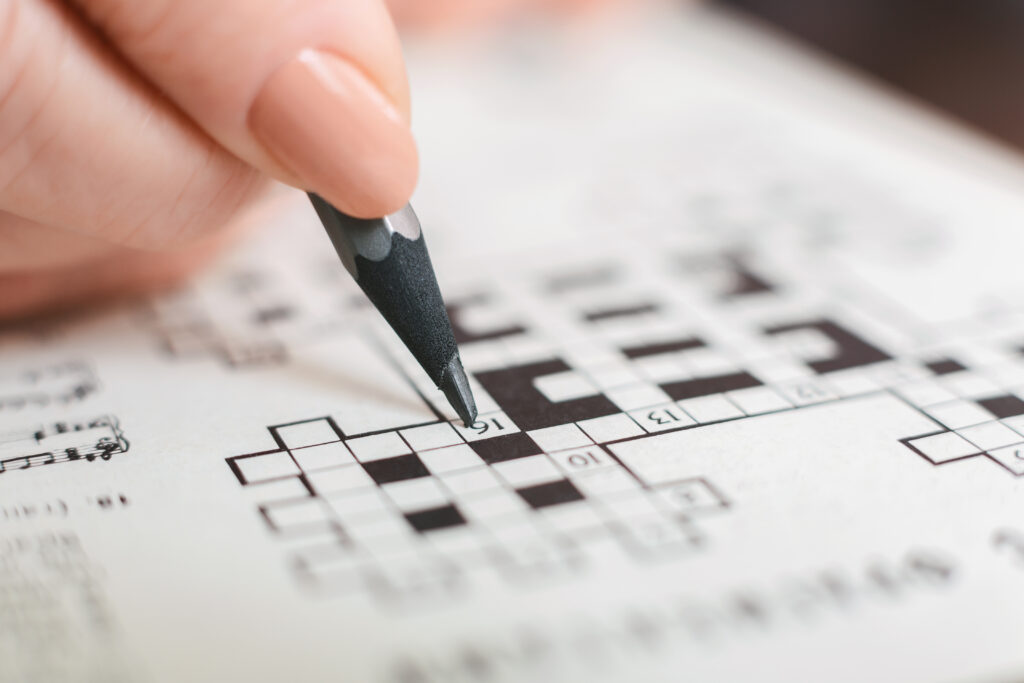 To crossword in a time of crisis
Keeley Keohane
|
April 9, 2021
---
In 2020 Britain was gripped by a "totally unheard of" jigsaw puzzle mania. Sales reached £100 million, up 38% on the previous year. The German toymaker Ravensburger proclaimed "stellar growth" in the UK, with its chairman, Clemens Maier, suggesting puzzles had helped "lots of people find a balance in their lives, especially in a time of crisis".
But did you know that it's possible to draw a parallel between the dissect-ologists (a person who enjoys jigsaw puzzle assembly) of 2020 and the cruciverbalists (crossword fans) of the first World War?
Although the origins of the crossword arguably go back to the days of antiquity, it's Arthur Wynne, a Liverpudlian emigrant to the United States who became an editor at the New York World, who is often credited with its creation. In 1913, needing a new game for the paper's "FUN" section, he devised the "FUN's Word-Cross Puzzle". This morphed after a typographical error into the "Cross-Word".
With its news headlines becoming increasingly grim after the outbreak of WW1, the New York World made efforts to direct its readers towards the crossword "for an anchor in increasingly uncertain times." Crossword production grew throughout the war years and by the 1920s the puzzle's popularity had boomed. In 1924, the Sunday Express printed the first crossword puzzle in the UK press.
Throughout this period the New York Times remained the only major newspaper in the US without a puzzle, refusing to compromise its journalistic standards. However, in 1942, two months after the strike at Pearl Harbor, it too caved. "The puzzle was not a frivolous distraction but a necessary diversion, something to keep readers sane with the rest of the news so bleak."
So why are crosswords such a balm? Crosswords, like other puzzles, engage our minds deeply. They ground us, focus us on the problem at hand and block out unwanted worries and distractions. As such we feel much calmer and more relaxed having completed a puzzle. And let's not forget the immense sense of achievement you feel upon cracking a dastardly crossword!
Research has also shown that regular crossword practice, even just once a week, can help improve memory and brain function in older age.
If you're new to crossword puzzles, start small. Don't get put off by a mind-boggling cryptic version or even the Sunday broadsheets. The Evening Standard, for example, offers an "easy crossword" on its website. Howard Barkin, an amateur crossword specialist, also says there's no shame in turning to Google. If you don't know something, you look it up and that's how you learn. In fact, reading broadly is one of the best things you can do to approach a crossword with confidence.
Crosswords have always been a solace in times of trouble. Here's how the 20th century's toughest moments shaped the puzzle's history: https://time.com/5811396/crossword-history/.
Specialist PR agency
We serve clients who want support from public relations professionals who can assist them with their communication programmes. Our work includes PR strategy, media liaison, writing, marketing, brochure and web design.
Our clients want support from people who will be proactive in their approach and who have their clients' interests at the heart of what they do.
Although based in Surrey, we serve clients from around globe looking for a positive impact to their communication activity.